Find out about the many possibilities to use a button!
Private Use
Buttons can be used in many ways:
Use buttons on birthday parties and celebrations.
Use them as place cards in a wedding or as an aide memoire.
Give out buttons to the birth of a child with name and data.
Buttons are a great souvenir for bachelor or bachelorette parties.
Give out buttons with family photos to family and friends.
Decorate your fridge with cool quotes on our magnet buttons.
Use buttons for merchandising in the artistic field.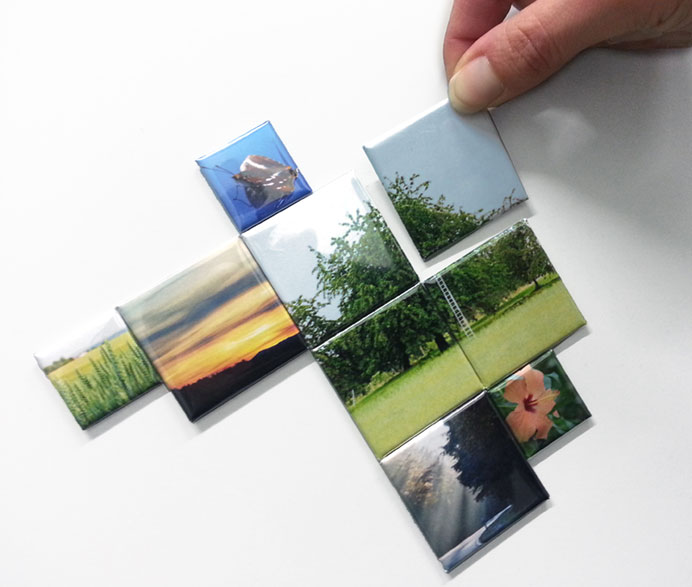 Professional Applications
Buttons can be used in many ways in the commercial sector, too.
Buttons are ideal for viral marketing by means of a QR code. This can be done with a design that contains for instance websites or phone numbers.
Buttons can also be used as name buttons. Our oval buttons are ideal for this purpose.
Advertise with buttons for your new products.
Use product buttons to increase your sales.
Advertise for sales and discount offers, preferably using the 56mm or 76mm buttons.
Give out buttons to your customers and promote your brand.
Tag products with buttons, e.g., "Bestseller May 2017".
Use buttons on seminars to recognize participants or as awards.
Compliment and encourage your staff with smiley buttons.
Help you trainees, e.g, with a "I'm still learning"-button to get more patience and sympathy from your customers.
Name buttons and participants' passes can be equipped with magnets to make them easily removable from clothes without causing holes.
Use in Schools and Educational Institutions
Use buttons for student projects and campaigns.
Use buttons as tickets for school parties or graduation.
Sell buttons to raise money for school trips or aid projects.
Use buttons as awards or prizes for sports events and competitions. Our rosettes are ideal for this purpose.
With your own button machine you can produce buttons yourself. Find our button machines here...
Noteworthy Information about Buttons
Depending on the purpose and occasion, we recommend different attachment options. For example if you need a button for your fridge, the pin button won't be of any help for you. For this purpose we recommend magnet buttons. With the power magnet or flat magnet, these buttons are well suited for magnetic pin boards or refrigerators. With the size of 10x1mm the power magnet can hold up to 500g. Thus, your notes are securely attached on your pin board.

The double magnet is the best recommendation for special occasions. Here, your formal dress won't be damaged in any way. The double magnet is available in sizes of: 56mm round, 76mm round, 44x68mm rectangular and 45x70mm oval. As a second option for an attachment to clothing you can also take the button without a needle and use it with a counter-magnet. The sizes are 32mm round, 37mm round and 44mm round.

For children's parties we recommend our clip button. There is no risk of injury to your child and the button holds securely.

Are you planning a conference and need personalized name buttons? We can help you. Find out how to order your personalized buttons. As fastener we recommend the crocodile clip.

Are you planning a big event and need more than 10,000 buttons? Contact us, we make it happen!

Buttons are easy to wear and can be used in many individual ways. They are inexpensive and can be purchased easily. Creating your own design is dead easy: be 100% unique! But if you need our help, we are happy to advise you.